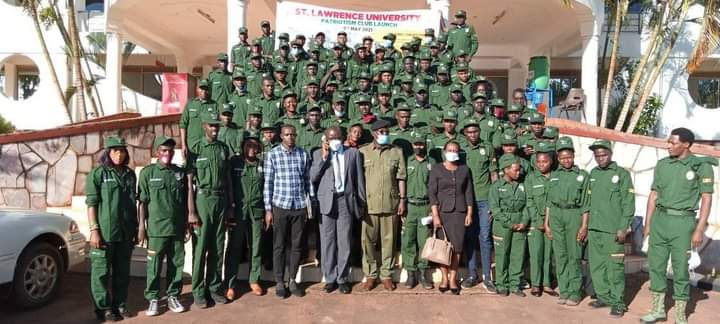 The Commissioner for National Patriotism Clubs of Uganda at Patriotism Secretariat Office Brigadier Patrick Mwesigye has launched a patriotism club at St. Lawrence University (SLAU) earlier this month, with a call for students and general community to love their country and be ready to work for it. "Article 17 of the Constitution of Uganda tells people to be ready to defend their country, if there is a problem in their villages," he said.
He commended the university administration for instilling patriotism in students since it equips them with skills to know and run society.
"Patriots are leaders, future (and) national thinkers. So, patriots should protect their lives because the country needs them more," Mwesigye said.
He asked Ugandans to love their country as a basis for development and urged the youth to use their time at university profitably.
Mwesigye challenged the youth to avoid alcoholism and promiscuity if the country is to realize sustainable socio-economic development. President Museveni started his patriotism campaign in Uganda's education institutions in 2009, starting with secondary schools and later universities, with the call for more Ugandans to join him and know their country.
The club he inaugurated at SLAU was the culmination of training in Political Science and military skills, which attracted over 200 university students.
The Dean of Students Mr Mabira Simon, said instilling a spirit of patriotism in students not only makes them love one another and their country but turns them into highly-disciplined and law-abiding citizens. He told the audience that the students were excited by the launch of the club in SLAU.
The Director of Crime Intelligence Brigadier Christopher Damulira, who also attended the launch reported that "the Patriotism Programme is there to influence positive beliefs and attitudes so that students can be able to defend the sovereignty of our nation and should learn to avoid pseudo ideology that confuses identity with interests which he blames for the conflicts in many African countries"
The patriotic clubs are geared to teaching Ugandans the seven 'dos and don'ts'? which includes a requirement for one to love Uganda, East Africa, the environment and oneself? that make one a patriotic citizen and are recorded in the seven booklets authored by President Yoweri Museveni himself. In as far as military science and skills are concerned, students trained in drills, field craft, improvised explosive device awareness, weaponry and target practice.